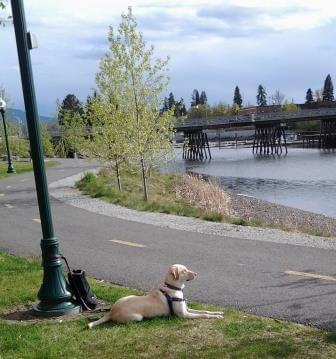 Summer training is just around the corner!
Summer training is just around the corner and we will be offering a June Basic Manners Class for dogs 6 months thru Adults.  So, whether you adopted a puppy during the winter that is now 6 months old or an older dog who needs a "tune-up", come and join us.
Basic Manners  Class- 6 months thru Adults
4 sessions- (limit 4 )   Cost:  $110- includes handouts- located at training facility * First session is 1.5 hours long and other sessions are 1 hour
June  Sessions:  June 9, 16, 23, 30- Session #1- 4:00-5:30 pm   Sessions #2- 4, 4:00- 5:00 pm
Description:  Basic Manners will focus on basic behaviors and skills that benefit dogs and people to live harmoniously.   Class #1 will be a basic orientation and a chance to get to know one another.  It will focus on a class overview. This includes what you will need for the class and class protocol for you and your dog. A slide show on "How Dogs Learn 101" and the use of the "clicker" will be shared.  This class is without your dog.  This class is mandatory.
Skills include but are not limited to: shaping and targeting behaviors, attention and focus, sit, down, settle, stay, mine/take it, techniques to build for loose-leash walking.  We will use a "clicker" to mark the desired behavior. Then reward in a variety of ways like treats, pets, praise, toys, interactions, and activities.   Your dog will have the opportunity to work in an environment with other dogs and distractions.
Call  North Idaho Animal Hospital to register-208-265-5700
***  All dogs need to be up to date on their vaccinations including bordetella.
 Puppy Head Start- Private- Puppies under 4 months  – 4 sessions- (Private 1-1) Cost: $220-Call for more information.
Private-in-home or Virtual  Sessions for Puppy Time or Basic Manners
Call Debra Duwe at 208-640-9551