All Things Puppy: (under 6 months) 
All Things Puppy: Basic Manners & Life Skills
It is never too early to start training with your puppy. Typically, puppies leave for their new home between 7-12 weeks of age.
All Things Puppy:  Basic Manners & Life Skills is specifically designed to meet the needs of the puppy and to help with the first critical periods of socialization and gain basic & intermediate foundation skills before they hit adolescence.
All Things Puppy covers over 8 major behaviors and foundation skills to get your puppy and humans off to a good start.
It provides discussion and practices in socialization, house training, handling, and relationship building.
Foundation skills :
Sit/down stand, chewing, impulse control, door manners, settling to the mat, beginning loose leash walking, and recall.
We answer specific questions and share management tips as you work on training.  8 Sessions give the opportunity to not only teach the skills but to build "reliability" with the skills.  Reliability allows your dog to demonstrate those skills in different environments with distractions and distance.  Sessions are individualized based on your needs and goals for your dog.
Format:  Online Training or 1-1 private In-home or at training studio.
 All Things Puppy:  Basic Manners & Life Skills includes 8 sessions: 1.5 hours for the first session followed by 7- 1 hour sessions; training & coaching, all handouts and training materials, email support.
 All Things Puppy Package:  $560  * See REGISTER for payment options
If you live outside of the immediate Sandpoint area, there may be a travel fee
Immunization Policy for In-home or Training Studio:  Dogs should be up to date on vaccines throughout the sessions.  At least 7 days prior to the first session, the first vaccinations and first de-worming are to be completed.  (AVSAB Recommendation)
Deb is an amazing dog trainer!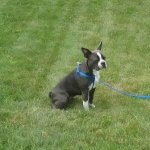 Deb is an amazing dog trainer! I had been working with my six-month-old Boston Terrier but needed additional help training her. I contacted Deb and she was friendly and eager to help. I had three virtual sessions and one in-person session. I was not sure how virtual dog training would be, but I thought I would give it a shot and I am glad that I did. Through virtual training, Deb was able to provide me with the necessary information, demonstrate with her dogs, and then coach me while I worked with my puppy. I learned so much and feel more confident in my abilities to train my puppy. I highly recommend Deb for anyone wanting one-on-one training for their dog.
Jarae Swanstrom