Basic Manners & Life Skills (over 6 months- Adult) 
It is never too late to start training with your dog or to refine and reinforce the skills that they know. Reinforcing and refining behaviors so they are reliable provides safety and fun for you in your dog in different situations.
Basic Manners & Life Skills is specifically designed to meet the needs of the 6 month old– adult dog.  If your dog is new to your home, it will help establish skills in your daily routines and if your dog is entering adolescence, it will help you and your dog through their "teenager" period.
Basic Manners & Life Skills covers the over 8 major behaviors and foundation skills to get your dog and humans working together as a team.  It provides discussion and practices in socialization, adjusting to home life, handling, and relationship building. It helps build or modify behaviors that you want for your dog to live harmoniously in your family.
Foundation skills: sit/down stand, chewing, impulse control, door manners, settle to the mat, loose leash walking, and recall.
We answer specific questions and share management tips as you work on training.  8 Sessions give the opportunity to not only teach the skills but to build "reliability" with the skills.  Reliability allows your dog to demonstrate those skills in different environments with distractions and distance.  Sessions are individualized based on your needs and goals for your dog.
Format:  Online Training or 1-1 private In-home or at training studio.
 Basic Manners & Life Skills includes 8 sessions: 1.5 hours for the first session followed by 7- 1 hour sessions; training and coaching, all handouts and training materials, email support.
Basic Manners & Life Skills Package:  $560  * See REGISTER for payment options
If you live outside of the immediate Sandpoint area, there may be a travel fee.
Immunization Policy for In-home or Training Studio:  Dogs should be up to date on vaccines throughout the sessions.  At least 7 days prior to the first session, the first vaccinations and first de-worming are to be completed.  (AVSAB Recommendation)
Does your dog have strong basic skills but need help in 1 specific area?  
Four Session Packages for Individual Skills or Special Needs: 
If your dog has strong basic skills but is weak in one area such as loose leash walking or recall, or if your dog has special needs such as shyness, fear, dog-dog reactivity, people reactivity, or "aggression" issues, the curriculum for Basic Manners & Skills for Life can be individualized and modified to meet the needs of your dog.
We assess your dog's strong skills and create a plan and package that meets your needs.
Package prices may vary depending on the specific needs of your dog. (Base price:  $280 (4 sessions total 4.5 hrs)
Send me an Email or call me to discuss your needs and issues.
Debra also teaches group classes during the calendar year at her training studio,  North Idaho Animal Hospital , and Diamonds in the Ruff.  Diamonds in the Ruff in Spokane, Washington offers more Advanced Classes; Canine Good Citizenship Classes, Tails and Trails, and Agility for Fun.
Day Training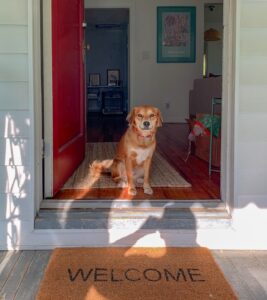 For Day Training I come into your home and train your dog.  It is a flexible and efficient model for busy professionals and families.   I work in the natural environment of your dog.  It is the place you live and play.
Our first session is an orientation to get to know you and your dog and the dog's natural environment.  We will discuss individual goals for your dogs and create a plan for success.
I work with your dog at least 3 X a week for 45 min. to an hour for several weeks in a row.  Thus, this  is a more intensive model. There is the opportunity to have consistent exposure for quick and maximum results.  Skills include but are not limited to shaping and targeting behaviors, attention and focus, sit, down, settle, stay, mine and take it.  Also, building steps for loose-leash walking and reliable recall.  We use a "clicker" to mark desired behavior.  Then, the  dog's earns the reward.  Rewards include treats, pets, praise, toys, interactions and activities. The program can be highly individualized. Individual goals are based on your lifestyle. "Field trips" to community locations for the purpose of taking learned skills into a new environment can be included.
Benefits:
This is a great option in terms of flexibility, individualization, and learning the skills in their home environment.   For instance, dogs that are reactive, nervous or shy benefit from training at home and where a group or semi-private class is not appropriate.
At the end of each session, you receive an email that outlines the training elements, how to reinforce the behaviors, and the training at home and my time in/out.  The last session is a transfer session where I will model and coach you on how to grow and maintain the behaviors.
A suggested time commitment is 3 or more sessions per week for 2 weeks, allowing for enough reinforcement for optimum results. 
Save time and energy by letting me train your dog and take care of building those foundation life skills.   Book your sessions today!
Cost: $ 75/session- which includes follow up email/phone consult or follow- up video
*If you live outside of the immediate Sandpoint area, there may be a travel fee.