More about Consulting  Services-  Coming Soon!
Special Needs/Behavioral Issues
Finding the right puppy or dog for you and your family
Therapy Dog Process
Aspen, My Therapy Dog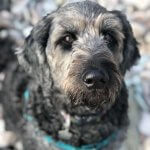 Aspen, my Goldendoodle, and I started working with Deb when she was 8 weeks old. Aspen was my first dog and I decided to be super ambitious and try to train her as a therapy dog. Deb was there every step of the way and supported me to help Aspen pass her therapy dog test at one year old. Everyone comments on how well behaved she is. I know I owe a huge part of that to Deb as I didn't have a lot of dog training knowledge prior to getting her help. The knowledge Deb has given me will help me for any dogs I raise in the future and are skills I have used to help my sister train her new 8-week-old puppy. Aspen and I both love working with Deb and highly recommend her. She is the trainer I will be using in the future as she treats you and your dog like family.
Danielle Meehan, OT