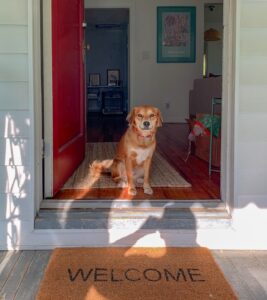 For Day Training I come into to your home and train your dog.  It is a flexible and efficient model for busy professionals and families.   I work in the natural environment of your dog.  It is the place you live and play.
Our first session is an orientation to get to know you and your dog and the dog's natural environment.  We will discuss individual goals for your dogs and create a plan for success.
I work with your dog at least 3 X a week for 45 min. to an hour for several weeks in a row.  Thus, this  is a more intensive model. There is the opportunity to have consistent exposure for quick and maximum results.  Skills include but are not limited to shaping and targeting behaviors, attention and focus, sit, down, settle, stay, mine and take it.  Also, building steps for loose-leash walking and reliable recall.  We use a "clicker" to mark desired behavior.  Then, the  dog's earns the reward.  Rewards include treats, pets, praise, toys, interactions and activities. The program can be highly individualized. Individual goals are based on your lifestyle. "Field trips" to community locations for the purpose of taking learned skills into a new environment can be included.
Benefits:
This is a great option in terms of flexibility, individualization and learning the skills in their home environment.   For instance, dogs that are reactive, nervous or shy benefit from training at home and where a group or semi-private class is not appropriate.
At the end of each session you receive an email that outlines the training elements, how to reinforce the behaviors and the training at home and my time in/out.  The last session is a transfer session where I will model and coach you on how to grow and maintain the behaviors.
A suggested time commitment is 3 or more sessions per week for 2 weeks, allowing for enough reinforcement for optimum results. 
Save time and energy by letting me train your dog and take care of building those foundation life skills.   Book your sessions today!
Cost: $ 75/session- which includes follow up email/phone consult or follow- up video
*If you life outside of the immediate Sandpoint area, there may be a travel fee.